Emergency Press is based in New York and publishes books of fiction, poetry, non-fiction, and emergent forms that fall outside these traditional categories. EP books are available in bookstores and through major online booksellers.


We are pleased to announce that David Armstrong has won the Emergency Press International Book Contest for 2013 for his manuscript, "drive/memory."
NEWS AND EVENTS
Just the War & Just the Peace is out at $.99! Aaron Dietz uses his iron touch on Tolstoy's classic, splitting it into 2 books - one all War, one all Peace.
Ernest Loesser's new book, Road Film, is our November release!
Heather Rounds' new novel, There, won the EP International Book Contest two years ago.
New titles in store! Megan Milks' Kill Marguerite - February. Eric LeMay's In Praise of Nothing - March. Cris Mazza's new edition of Various Men Who Knew Us as Girls - April.
Road Film
Ernest Loesser
Poetry/Essays
November 12, 2013
Indiebound
Amazon
Barnes & Noble

Emergency Press books are distributed by Publishers Group West.
Copyright 2014 © Emergency Press. All rights reserved. Emergency Press. New York. info@emergencypress.org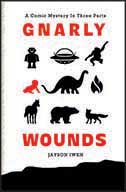 Gnarly Wounds
Jayson Iwen
Fiction
September 24, 2013
Indiebound
Amazon
Barnes & Noble