Emergency Press is based in New York and publishes books of fiction, poetry, non-fiction, and emergent forms that fall outside these traditional categories. EP books are available in bookstores and through major online booksellers.


NEWS AND EVENTS
Kill Marguerite by Megan Milks is named a Lambda Award finalist in the category of Debut Fiction!
Cris Mazza's Various Men Who Knew Us as Girls released, with a guest foreword by Antionia Crane.
Eric LeMay's In Praise of Nothing: Essays, Memoir, and Experiments is out, with the simultaneous release of a very fun multimedia ebook edition. Check out LeMay's website for bonus features such as his "Playable Essays," building on classic games such as Asteroids and Tetris.
Just the War & Just the Peace is out at $.99! Aaron Dietz uses his iron touch on Tolstoy's classic, splitting it into 2 books - one all War, one all Peace.

Emergency Press books are distributed by Publishers Group West.
Copyright 2016 © Emergency Press. All rights reserved. Emergency Press. New York. info@emergencypress.org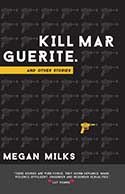 Kill Marguerite
Megan Milks
Stories
March 11, 2014
Indiebound
Amazon
Barnes & Noble